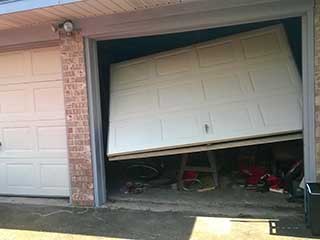 Each year, lots of people are injured in garage door accidents. Admittedly, you'll never stop those reckless enough to duck under a closing door, but you can lower the risk of injury from failing equipment. Here are some hints and tips on how to operate and maintain your door safely.
Avoid Bad Habits
It's easy to fall into bad habits, but leaving your garage door halfway open is one to be avoided. When a door is in this position, it's easy to move it in the wrong direction and anything below is in harm's way. Forgetting to close the door fully can also be a security issue for your home.
Be Safe Not Sorry
Modern garage doors are fit with one or more built-in safety features such as optical sensors and resistance sensitive safety locks, and they require periodic checks. Thankfully, they're easy to test. All you need to do is place a large empty cardboard carton beneath the open door and hit the close button, if the sensors are working as they should, they will stop and reverse. Next, unplug the sensor and check that the safety lock kicks in by repeating the operation.
Maintenance Is Key
Frequently used machinery requires ongoing maintenance and the same goes for your garage doors. Our technicians recommend that overhead garage doors be inspected a few times per year. If at anytime your garage door runs oddly or makes unfamiliar sounds, call a technician before it gets worse.
Children And Pet Awareness
Make sure your kids know to stay away from the door whenever it's in operation. Keep controls out of their reach too. Safety systems can't always tell if little fingers are too close to moving parts until it's too late. Consider changing your door panels for ones that don't leave small gaps around the door. Don't ever be tempted to tie your pet's leash to the garage door tracks either. They could pull the door out of alignment and cause an accident.
Learn More
If you would like more information regarding garage door safety or have installation, repair or maintenance-related questions, check out our website or call us now.