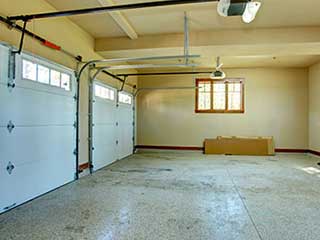 Types of Openers
There are five possible mechanisms operating your garage door opener: chain drive, belt drive, direct drive, screw drive, and jackshaft. One of these possible options is what provides the force to allow your heavy garage door to open without excessive strain. A chain drive attaches the trolley to the motor via a chain, whereas a belt drive uses a rubber belt and a screw drive uses a long screw. Direct drive motors are inside the trolley. The drive types utilize various devices to pull the trolley that lifts and lowers the door, while the jackshaft operates by attaching a motor directly to the torsion rods. These mechanisms see a lot of use and are critical to a smoothly functioning door, so let us make sure that yours are tuned up and ready to work.
What You Need
Depending on the type of opener you have, you may need a new chain, new belt, or other replacement parts to keep your door operational. Motors can wear out as well, and the trolley may need a repair or two to glide smoothly along its track. If you have a jackshaft, there are tension cables and other parts that must be maintained to ensure a safely functioning door. Jackshafts are more often seen in commercial spaces because of their more complex maintenance and repair requirements, but they have been gaining popularity in residential areas as well.
Keep It Rolling
Keep your trolley rolling with an opener that does your bidding every time. The professionals at Garage Door Repair Lehi are experts in all the interworking parts of garage door openers and more. If your door is giving you trouble, or if you just want to make sure it doesn't surprise you or your business with a problem, give us a call and we'll help you out as fast as we can. Call now.
In addition, count on us for:
Garage Door Opener Maintenance
Genie & Liftmaster Opener Repairs
Broken Spring Replacement & Repair
Broken Garage Door Track Repair